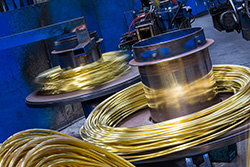 From 1894, Ets Maurice LEGO has been selling products obtained from hot extrusion, thanks to the acquisition of a direct extrusion 600 T press. In 1960 and 1974 two new indirect extrusion presses were installed, leading to a further development in the company's history.

1989 and 1998 : a semi-continuous vertical casting, then a continuous horizontal casting are installed, in order to develop special alloys fully.

1991 : the company leaves the founders' family bosom and is now owned by the company De Buyer SA. This step is the company's first turning point : being historically present on rather domestic brass markets, it starts its growth by increasing the high copper content products (aluminium bronze and copper alloys) and by focusing on export.

2001 : implementation of a new combined extrusion line designed for manganese bronze, for the automotive industry.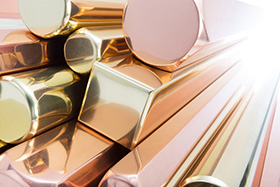 2007 – 2008 : the company acquires a new melting oven of 4.5 To, enabling to cast chromium and zirconium alloys, as well as special alloys for a better productivity.

August 2008 : the British Bolton Metals Group acquired the company. Maurice LEGO then became BOLTON LEGO.

June 2009 : m Lego has been approved EN9100 by Lloyds's LRQA with a 100% scoring.

January 2011 : AUREA takes Bolton Lego over, which is now called m Lego as a tribute to its founder, Maurice LEGO. A second turning-point for Lego : an ambitious modernization plan is launched for 2011-2012. These modernizations are aimed at improving productivity and quality so as to get a better production capacity on some products, such as aluminium bronze, copper alloys and special brasses