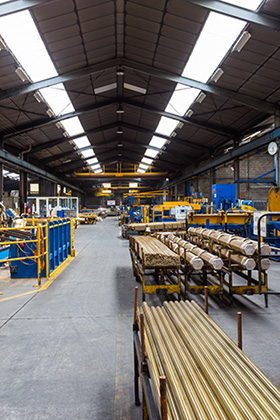 m Lego's ambition is to be the reference in the production of half-finished copper based alloys and a leader in the Metal Recycling industry.
m Lego's reason to be is to bring full satisfaction to its customer by offering products and services adapted to their requirements. m Lego's certifications ISO 9001 and EN 9100 (ASD) act as guarantor of this commitment.
In an always evolving market and a changing global economic context, m Lego has to adapt and improve its performances in every field. Therefore, m Lego is oriented towards high-value alloys and market, and remains very active on the standard products market by proposing short lead times and specific products.
So as to progress and reach its ambitions, m Lego is committed to :
Guarantee m Lego's Products' quality in accordance with customers' requirements, laws and regulations with a strict quality control policy
Remain competitive by establishing a performance orientated management policy, based on human values and continuous improvement so as to respect costs and lead times.
Implement an ambitious investment plan within a productivity and quality strategy in m Lego's Plant
Guarantee safety at work for each worker via a risk prevention policy
Protect the environment by applying our Group Aurea's philosophy : regenerating in place of destroying.
The implementation of this progess axes is based on m Lego's team commitment, working together so as to achieve our ambition.
m Lego Quality Policy 2015 quote