Home | Products | Aluminium Bronzes
Aluminium Bronzes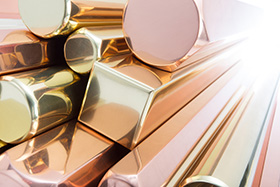 Aluminium bronzes are composed of copper and aluminium to which we add simultaneously iron to improve some mechanical characteristics and to obtain a finer grain, nickel to increase the corrosion resistance and manganese to facilitate the casting process.
These alloys also have a good aptitude for friction and cold working.

Applications include electrical and heating systems, valves and fittings, Marine, Aerospace, screws and bolts.

mLego designation
AL7
D10
D11
CEN
EN12163 EN12165
CW302G CW302G
EN12163 EN12165
CW307G CW307G
EN 12163
CW308G
AFNOR
NF A 51-116
CuAl10Ni5Fe4
NF A 51-116
CuAl11Ni5Fe5
DIN
DIN 17665
CuAl10Ni5Fe4 - 2.0966
BS
ASTM
B150
C64200 / C64210
B150 - AMS4640
C63000
B150 - SAEJ463
C63020
Others
QQ-C-465
C64200
NFL14705 / STF22-55
CuAl10Ni5Fe4
NFL 14706
CuAl11Ni5Fe5
mLego designation
D13
D14
D16
CEN
AFNOR
DIN
BS
ASTM
C62500
B150 - SAEJ463
C62400
B150 - SAE J463
C62300
Others
CuAl13Fe4Mn2
AMS 4635
AMS 4635
mLego designation
D18
D3
D4
CEN
EN12163
CW306G
AFNOR
NF A 51-116
CuAl9Mn6Ni2Fe2
NF A 51-116
CuAl9Ni3Fe2
DIN
BS
DIN 17665
CuAl9Ni3Fe2 - 2.0971
ASTM
Others
GAM MM11 / STF 22-55
CuAl9Ni3Fe2
mLego designation
D7
M3
SO1
CEN
EN 12163
CW307G
AFNOR
NF A 51-116
CuAl10Ni5Fe4
NF A 51-116
CuAl9Ni3Fe2
NF A 51-116
CuAl9Ni5Fe4
DIN
DIN 17665
CuAl10Ni5Fe4 - 2.0966
DIN 17665
CuAl9Ni3Fe2
DIN 17665
CuAl9Ni5Fe4 - 2.0976
BS
BS 2874 BSB23
CA104
ASTM
B150
C63200
Others
L'AIR LIQUIDE
ST 554.01
GAM MM11
CuAl9Ni5Fe4
| mLego designation | Standard designation | Properties & applications | Download |
| --- | --- | --- | --- |
| AL7 | CuAl7Si2 | Silicon Aluminium Bronze, Valves Seats, Screws, Bushings, bearings... | |
| D10 | CuAl10Ni5Fe4 | Nickel Aluminum Bronze. Aerospace, Electric System, Bushings, Electronics, Marine | |
| D11 | CuAl11Ni5Fe5 | Nickel Aluminum Bronze. Electric System, Electronics, Marine | |
| D13 | C62500 | Aluminum Bronze. Bearings, Bushings, Slides, Gears | |
| D14 | C62400 | Aluminum Bronze. Bearings, Bushings, Slides, Gears | |
| D16 | C62300 | Aluminium Bronze. Components for pump, Marine, Valves | |
| D18 | CuAl10Fe3Mn2 | Aluminium Bronze, Naval Industries, Bearings, Screws… | |
| D3 | CuAl9Mn6Ni2Fe2 | Aluminium Bronze, Electric & heating systems, Valves, Fittings | |
| D4 | CuAl9Ni3Fe2 | Aluminium Bronze, Connectors, Valves, Navy, Sanitary fittings, screws & bolts | |
| D7 | CuAl10Ni5Fe4 | Aluminium Bronze. Aerospace, Electric System, Bushings, Electronics, Marine | |
| M3 | CuAl9Ni3Fe2 | Aluminium Bronze, fittings | |
| SO1 | CuAl9Ni5Fe4 | Aluminium Bronze, ASD, Axles, Valves, Pads, Navy | |